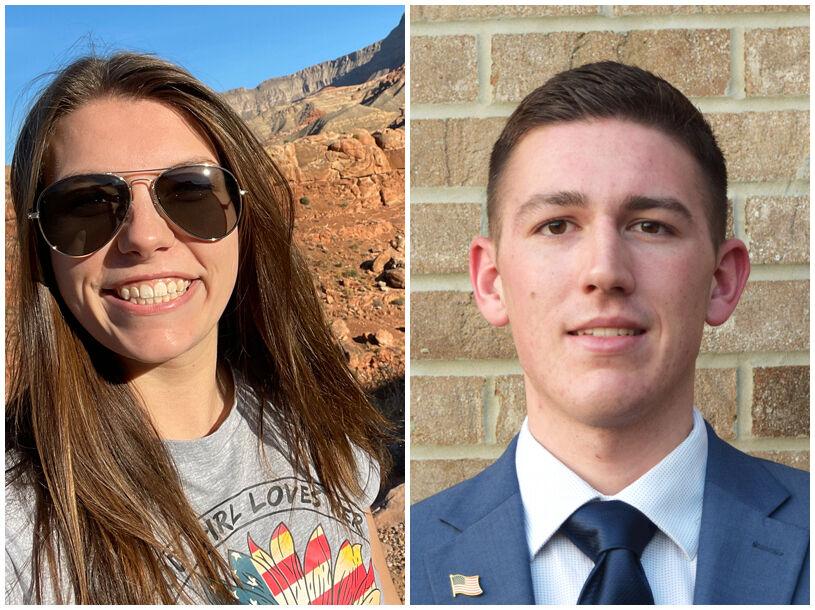 Throughout the COVID-19 pandemic, members of the National Guard and Reserves have courageously served as essential workers to assist relief efforts. Units across Illinois are continuously working to assist in vaccinating the public as safely and efficiently as possible.
Southern Illinois University Edwardsville's Audrey Stark of Clinton and Lucas Maue of Maryville are two of many student members of the National Guard deployed to vaccination sites.
Stark, a sophomore pursuing a bachelor's in political science, was unsure of her plans upon high school graduation before enlisting in the National Guard.
"A week before I decided to enlist in the National Guard, I had never even heard of it," Stark admitted. "Now, the National Guard is affording me a way to serve my country like I've always wanted, while giving my mom the college graduate she always wanted."
Now, Stark is serving on her first deployment in Tinley Park, where she assists in registering patients receiving the vaccine.
"We are helping with almost every step of the process in administering vaccines, from checking temperatures when you come through the door to registering you for your second dose as you leave," Stark said.
Although Stark is not a trained medic, she noted there are many Army and Air Force medics working alongside Cook County health professionals to administer vaccines.
Stark described the process of the vaccination site to be painless and efficient, noting the lack of supply as the only major setback.
"Most of our complaints have been about struggles with getting appointments, but we can only schedule as many appointments as we have vaccines," she shared. "As of right now, we are administering anywhere from 1,000-2,500 vaccines a day at this site alone, with the capability to do 3,000 a day if we had enough vaccines."
Maue, a junior majoring in business finance, is serving on his second deployment to aid in COVID-19 efforts. As a member of a mobile vaccination team in Springfield, Maue conducts registration form checks for all patients processing through the facility.
"I verify that all the information patients write down matches with their ID," Maue explained. "My job is to ensure that a patient is processed and ready to go before they reach the step of sitting down with our medics and receiving their vaccination."
Maue began his 90-day deployment on March 10. He has spoken with many satisfied patients who are happy to receive the COVID-19 vaccine.
"It feels good to see the excitement on an elderly patient's face when they tell you how much they appreciate the opportunity to receive their vaccination," he shared. "I have had the opportunity to speak with many individuals who haven't seen their grandchildren or other loved ones since the onset of the pandemic. It's these conversations that make it 100 percent worth having to work harder to stay on track academically."
SIUE faculty and staff have worked diligently with deployed students to ensure they can meet education requirements.
"In my experiences, SIUE has been very accommodating to student-military conflicts,"  Maue said. "I couldn't be happier about the way they treat their students who are called to serve."
Both students praised Kevin Wathen, director of Military and Veteran Services, for making the transition to deployment as easy as possible.
"Kevin Wathen was instrumental in helping me during all three of my deployments," Maue added. "He works relentlessly as an advocate for members who must deploy mid-semester. After speaking with Kevin, I always sit down to craft a professional email that I send to all my instructors. Being honest about my impending situation has always yielded great results with my professors regarding their abilities to help me still succeed."
For more information on SIUE Military and Veteran Services, visit siue.edu/military.