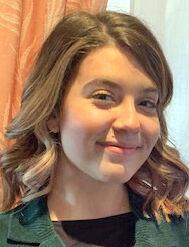 During her time in Lewis and Clark Community College's Criminal Justice program, alumna Betsy Papin showed she has what it takes to protect and serve. 
"I've always been interested in finding ways to help people and working to improve the community," she said. "Then I started noticing members of the Alton Police Department doing a lot of things out in the community, and that made me interested in doing law enforcement."
Papin was given just that opportunity during the fall semester. During a successful internship with the APD, she was paired to work alongside leadership in each area of police work. 
She went on ride-alongs with officers, observed operations in dispatch and administration, and even spent time working around the department's jail. 
"I pretty much learned the basics of everything, and got to experience a lot of the work that goes on behind the scenes," Papin said. 
The experience helped her affirm her career focus on one specific expertise — investigations. 
"That's what I was interested in from the get-go," Papin said. "During my internship, I got to see how investigations are conducted from the perspective of detectives working in real-life situations. I have to say that the Alton Police Department is super amazing. They showed me several different cases and how they solved them from beginning to end. It was invaluable to see all the work that goes into investigating crime."
Papin also received valuable guidance on going into a career with a predominantly male presence. APD employs several female officers, some serving in leadership roles. 
Particularly, Papin thanks Det. Kimberly Lutman for her mentorship.
"She talked me through what it was like for her to be one of the females moving up in law enforcement, and how she got into it herself," Papin said. "It really motivated me even more."
In the classroom, Papin focused much of her study on societal and policy issues related to law enforcement and criminal justice. She credits L&C Criminal Justice Program Coordinator Jessica Noble for providing students with a well-rounded and complete education. 
"She always made sure we understood both sides of everything we covered," Papin said of Noble. "For example, she showed us the benefits jails and prisons have for communities, but there are flaws in every system. By teaching her students honestly about the system, we're able to grow from that. When we get into those positions, we'll know and be more aware of the problems we currently have in our systems."
According to Noble, Papin is well on the way to achieving her dream career. 
"Betsy is friendly, intelligent, well-spoken, and thoughtful," Noble said. "She consistently shows up and is determined to be successful, and has served as an inspiration for other students and a mentor to others. She definitely proved herself during her time with the APD. Betsy is the type of student every teacher wants in their class. It was an honor to teach Betsy, and I cannot wait to see where her education takes her."
Noble added that Papin, who will continue her education on scholarship at Saint Louis University, is the type of person who can make a difference. 
"This generation is key to keeping people safe, righting any wrongs that are done, and making sure we, as citizens, have a just system," she said. "The field of criminal justice is tough sometimes, but it is so rewarding to help others and keep our justice system on track."
To learn more about the Criminal Justice program at Lewis and Clark Community College, contact Noble at jbnelson@lc.edu or (618) 468-4524. Visit www.lc.edu/program/criminaljustice.