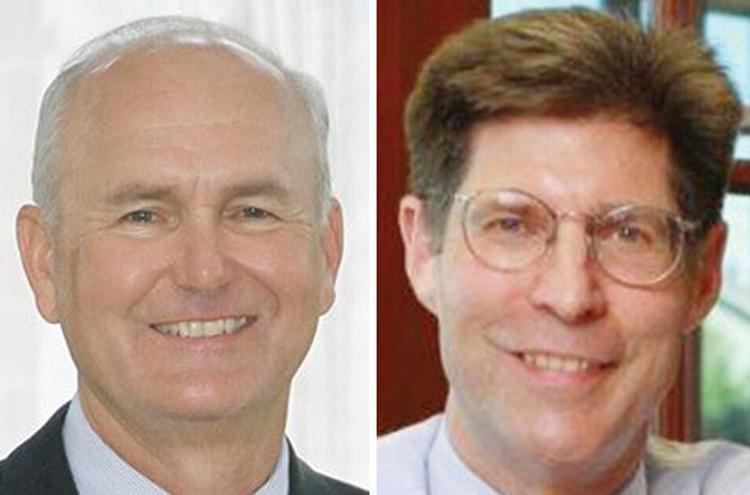 The use of time clocks has become an issue of contention between the two candidates for Madison County Board chairman.
Chairman Kurt Prenzler, in the first year of his administration, installed time clocks as a part of the new Human Resources Information System.
Democrat challenger Bob Daiber, in a meeting with county union employees, was recorded saying, "I promise you this . . . that on Nov. 4 . . . of 2020 . . . you will not any longer have to worry about clocking in clocking out . . . and nor will any county employee clock in clock out."
Daiber said the county purchased the HRIS system without bidding.
"That's not true," Prenzler said. "The administration received five proposals from High Line, Unicorn, KRONOS, ADP and Paycom."
The county's payroll software provider at the time, High Line, a Canadian company, required significant IT support.
Two companies, ADP and Paycom, met the bidding requirements, and representatives from these companies made presentations to members of the Personnel and IT committees.
"The board members preferred Paycom for a number of reasons, including the fact that it was less expensive," Prenzler said.
The County Board approved the HRIS contract in August 2017 in a bipartisan vote.
The new HRIS software has capabilities beyond the system it replaced. In addition to the time clock module, it allows time management/time-off requests, scheduling, document/task management, applicant tracking, performance management, etc.
Federal law does not require the use of time clocks, but does require employers to keep accurate records of hours worked.
"Time clocks are simply an efficient way to record hours worked," Prenzler said. "Time clocks are common in the private sector, from fast food to factory to finance."
---
Sources:
Daiber's recorded statement: https://www.youtube.com/watch?v=lJ436rm2Wts
Daiber's statement regarding bidding: https://madisonrecord.com/stories/556490284-prenzler-takes-issue-with-daiber-s-call-for-eliminating-time-clocks-daiber-stands-by-remarks