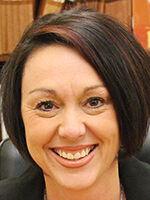 The Bethalto School Board at a special meeting Tuesday approved issuing approximately $20.64 million in bonds to finance building improvements throughout the school district.
Superintendent Jill Griffin said the special meeting was necessary because the district is on a strict timeline with contractor GRP|Wegman to complete the four-year project. The work includes replacement of roofs, floors and heating, ventilation and air conditioning systems, interior wall and ceiling work, electrical upgrades, a new track and turf field, LED sports lighting, a new concession stand and ticket booth, new bleachers and press box, and locker room replacement.
At the August meeting, Director of Finance and Operations Barrett Deist said he expects the district's improved financial condition will prevent a property tax increase to repay the bond debt. The board conducted a public hearing on the bond sale at the August meeting.
School Board member Don Woelfel, who was out of town Tuesday, questioned the project's cost at the previous meeting. A speaker at the public hearing said he thought $5.9 million for athletic facilities was excessive.
Stifel, Nicolaus and Co. Inc. of St. Louis is handling the bond sale.