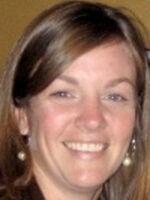 To provide a more accessible setting for Granite City residents to receive assistance with state services, state Rep. Katie Stuart (D-Edwardsville) will hold satellite office hours from 1-4 p.m. Thursday, June 24, at City Hall.
"Satellite office hours are a great opportunity for residents who may not have the availability to visit my district office in Collinsville to meet with me closer to home," Stuart said. "If you have questions about new laws or need help navigating a state agency, you're more than welcome to stop by this Thursday."
Stuart regularly hosts satellite office hours at City Hall, 2000 Edison Ave., on the last Thursday of the month. Anyone living in Stuart's district is invited to attend; however, her Granite City office hours are specifically geared toward residents for whom Stuart's Collinsville office is out of the way.
"As an alternative to traditional office hours, this event provides another chance for community members to speak with my staff and me about anything on their minds," Stuart said. "Calling or emailing my office is always an option as well, but you may find that attending local office hours in-person is the right fit for your needs."   
For more information, contact Stuart's constituent services office at (618) 365-6650 or RepKatieStuart@gmail.com.