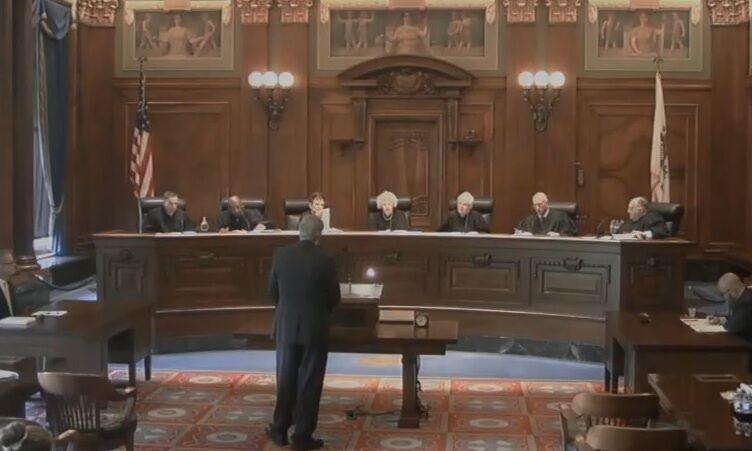 Two former Illinois state lawmakers suing the state to get back-pay from pay raises they voted to withhold appeared Wednesday before the Illinois Supreme Court.
In 2017, former state Sen. Michael Noland, D-Noland, sued over raises he said he was owed as a state lawmaker, even though he voted to freeze his pay. Former state Sen. James Clayborne, D-Belleville, later joined the lawsuit. The case went through the circuit court, then the appellate court.
Representing the Illinois Comptroller's office as the defendant Wednesday in the Illinois Supreme Court, Assistant Attorney General Richard Huszagh said the court should deny the $175,000 back pay claim awarded by a lower court.
"These plaintiffs voted for these laws and they're saying that they shouldn't even apply to new terms in office that they had that began after one of these laws took effect," Huszagh said. "And, we take issue with that."
Plaintiffs attorney Michael Scotti, appointed special assistant attorney general, argued for the backpay.
"In this particular case, it was not as clear cut to these senators that what they were doing was unconstitutional," Scotti said.
Scotti argued lawmaker pay can't be diminished midterm per the state constitution. The case also should include all state legislators impacted by the wage freeze, he said.
"We were suing not only on behalf of Senators Noland and Clayborne, but also on behalf of all members of the General Assembly, right from the very beginning," Scotti said.
Huszagh argued Noland's and Clayborne's official capacity argument is null and they're looking for a personal payout.
"They're seeking monetary relief for themselves, personally, not a recovery for the government or the people as a whole," Huszagh said.
Huszagh argued for the case to be reversed and remanded back to the circuit court. If an award is given, he said it should only apply to the two former lawmakers for only the timeframe of a midterm pay change, not for the entire General Assembly.
The Supreme Court took the case under advisement.