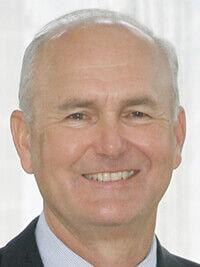 Howard Elmore, former Bond County Board chairman who left office in January 2020, announced Friday he is endorsing Bob Daiber for Madison County Board chairman and is also encouraging voters to support Daiber's candidacy to bring integrity and competence to Madison County government.
"I have known Bob Daiber for over 20 years as an elected official and farmer," Elmore said. "He knows Madison County and will do the right things to lead it into the future.
"Bob and I served together on the Madison/Bond Workforce Investment Board, where I witnessed his good judgement and rational decision making," Elmore continued. "Bob has a great background in workforce development as a career and technical teacher, and he'll use that knowledge to ensure Madison County has a well-trained workforce to support a growing economy.
"Further, Bob Daiber will collaborate with elected officials of neighboring counties on issues that affect their counties," Elmore said. "Bob understands that counties don't live in a vacuum and must work together, and he'll be a regional leader for the entire Metro East."
Daiber thanked Elmore for his endorsement.
"I have immense respect for former Chairman Howard Elmore, and he has extensive experience in the public and private sector," he said. "We have had a great working relationship over the years, and I look forward to working with him to further the mutual interests of our counties should I be elected on November 3."
Daiber was recently endorsed by mayors of Granite City, Pontoon Beach, Madison, and Venice, as well as Madison County Sheriff John Lakin and state Sens. Andy Manar, Rachelle Crowe, and Christopher Belt.