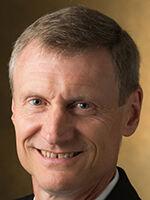 Princeton Review has ranked the Southern Illinois University Edwardsville School of Business Online Master's of Business Administration program among the top 50 nationally. 
The ranking is based on a combination of institutional and student survey data, including career outcomes, technological infrastructure, academic rigor, cost, and affordability, among others. Princeton Review has rated the school among the best in the country for on-campus MBA for 15 consecutive years.
"We are pleased that Princeton Review has recognized the quality of our online MBA program," SIUE School of Business Dean Tim Schoenecker said. "The online platform helps our School of Business meet our commitment to deliver quality, affordable business education to working professionals.
"We launched our fully online MBA program two years ago and student interest in the program has exceeded our expectations. Furthermore, the growth in enrollment has enabled us to offer new specializations to meet the needs of our students and their employers."
Princeton Review is a leading tutoring, test prep and college admission services company. Every year, it helps millions of college and graduate school-bound students achieve their education and career goals through online and in-person courses delivered by a network of more than 4,000 teachers and tutors, online resources, and its more than 150 print and digital books published by Penguin Random House. Princeton Review is headquartered in New York, N.Y. The company is not affiliated with Princeton University.