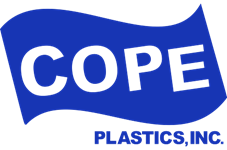 Cope Plastics Inc. in Alton is celebrating its 75th year in business in 2021. 
The company was founded by Dwight & Mozelle Cope in 1946 in their basement in St. Louis. Now owned by second- and third-generation relatives and run by Cope's granddaughters, the company supports a nationwide customer base and is recognized as one of the largest woman-owned businesses in the St. Louis region. The current owners, Donand Sharilyn Beem, have been with the company for over 60 years. Don is chairman of the board and Sharilyn, daughter of Dwight and Mozelle Cope, is the major stockholder.
Cope's growth has continued over the decades, expanding to 19 locations across the United States with customers from coast to coast. Cope remains the supplier of choice for more than 8,000 companies and original equipment managers in the heavy equipment, agriculture, food service, oil and gas, aerospace, medical, transportation, retail, and graphics industries.  The company employs more than 370 people nationwide. 
"We are thrilled and blessed to be celebrating our 75th year in business," President and CEO Jane Saale said. "The plastics industry has changed drastically over the past 75 years and Cope Plastics has become one of the premier distributors and fabricators across the nation. Now in its third generation, the Beem family ownership is proud of what Cope has accomplished over the years. A big part of our success is our dedicated, hardworking, and skilled employees. We will continue to advocate our core values in all aspects of our business because we recognize that our best asset is our valued Cope team members."
Celebrating this huge milestone, the company has announced a number of investments that are supporting its recent growth, including warehouse expansions in Minnesota and Alabama, the purchase of additional technology and fabrication equipment, as well as the acquisition of a CNC routing company in Arizona. 
The company's Vadnais Heights, Minn., branch is undergoing its second expansion in 12 months, including a 5,000-square-foot addition that will be utilized for both fabrication and inventory growth. The new space is complete with floor-to-ceiling racking, high-efficiency LED lighting, and an additional dock door to handle extra incoming and outgoing shipments.
Cope's Huntsville, Ala., branch has also announced an expansion that will triple their office and warehouse space, allowing the branch to stock more local inventory to support customers in the southeast region of the country. 
In 2019, the company officially announced the opening of the Goodyear, Ariz., sales branch, introducing a brick and mortar location to the West Coast. As of January, the company now owns CNC Routing AZ, a high-production routing company in Chandler, Ariz.
"The acquisition of CNC Routing AZ is in perfect alignment with our corporate strategic plan to add fabrication capacity in growth markets," said Alex Cannon, Director of Business Development for Cope.
Having this fabrication center in the Phoenix metro area alleviates burdensome transportation and shipping costs while boosting Cope's operations capacity in a time when post-pandemic demand is extreme. 
After 75 years in business, the owners of Cope Plastics have committed to investing back in the business to help support controlled growth. Recent fabrication equipment purchases have added 20 percent more lathe capacity and 20 percent more routing capacity to the company's nationwide fabrication offerings. Additions and upgrades of company saws across the country have been completed over the past couple of years. Additional delivery trucks have been added to the company's fleet to support distribution growth. Upgrades have been made to shop and office lighting, vacuum, and air systems throughout the company's manufacturing footprint. Additionally, in 2020 Cope upgraded all forklifts in their corporate location to increase operator safety, and to improve the speed and accuracy of shipments. 
"I have never been more proud of our business and our people," says John Lee, vice president of sales and marketing. "During 2020 we kept our blinders on; we continued to serve our customers, and Cope Plastics' outlook has never been brighter. Our recent CAPEX expenditure and expansion of multiple facilities ensures we meet the increased demand of our current and prospective customers."
The owners of Cope Plastics will continue to identify opportunities for reinvestment to ensure the company is here to provide solutions for another 75 years. 
Since its inception in 1946, Cope Plastics' experts have been making things possible with plastics across many industries. Cope Plastics prides itself on its award-winning recycling program and is one of the largest women-owned businesses in the St. Louis area. For more information, visit copeplastics.com 
###