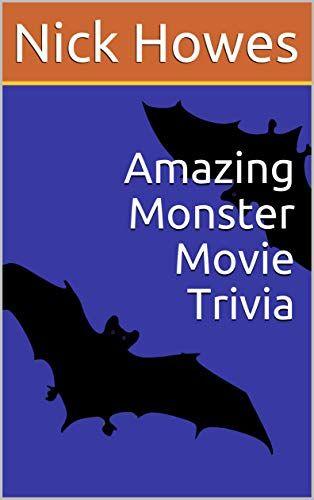 Halloween approaches and monster movies are undergoing the annual cascade across your TV set. A new ebook is out from an Alton writer filled with behind-the-scenes trivia about making those movies.
Did you know the appearance of the Bride of Frankenstein was based on Nefertiti, the ancient Egyptian queen? Or that "The Wolf Man" was released days after Pearl Harbor and the expected flop became a hit before an audience eager for distraction from Japanese conquests in the Pacific?
These and other tidbits are included in "Amazing Monster Movie Trivia," a Kindle ebook compiled by Nick Howes of Alton. A fan of B movie monsters, Howes said he is especially interested in how the moviemakers sought to create entertaining films on laughably small budgets.
Monster movies have been popular since 1910's "Frankenstein" by Thomas Edison. They soared in popularity in the 1950s when many filmmakers worked outside the well-financed movie industry. Monster movies were among popular genres like Westerns, juvenile delinquent, rock and roll and other topics aimed at the teen drive-in crowd.
Shortcuts abounded, said Howes, sometimes very effectively as when Roger Corman made the Vincent Price and Edgar Alan Poe series and used essentially the same Gothic mansion set for each movie. He repeatedly upgraded it with each movie's art budget. Corman couldn't resist reusing the set a final time with a hastily written script for "The Terror" with Jack Nicholson and Boris Karloff, famously made with two days of principal photography
Howes said the impacts of the studio monster movies and the drive-in movies made by independents are still with us. As the monster movie kids grew up, they took over Hollywood and made their own big-budget monster movies like "Alien" and "Godzilla, King of the Monsters."
Howes' book may be purchased on Amazon. Howes said the Kindle reader can be downloaded for free from the same page as the book offer. Howes said he downloaded it to his desktop computer long before he bought a Kindle, by which time he had amassed a library of 1,200 ebooks.
The Alton resident has written previous Amazon ebooks, including "Southern Illinois Ghosts and Haunts."
Howes, 70, is a retired radio newscaster and newspaper correspondent. Ever since his first magazine sale as a student at Roxana Senior High School, Howes has written for newspapers and magazines. He also spent 25 years as a radio newscaster.